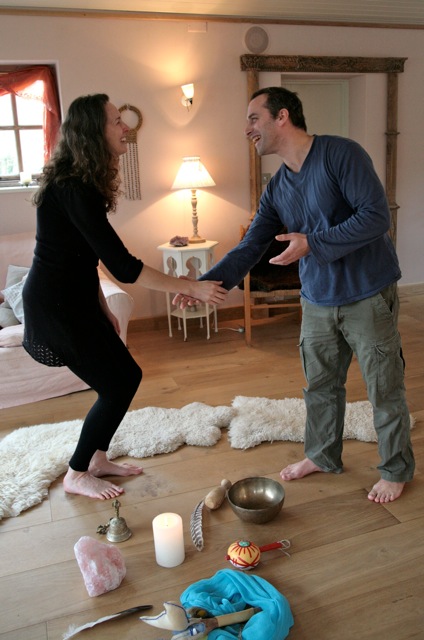 So how is it for you singing out to someone else? For some people this takes courage and spirit. For some it is a salvation that helps them get deeper into their singing. Truly it can help when someone else is standing there and listening and receiving your singing.
These things I know support you:
Choose someone who wants to develop their voice too
Choose someone you feel easy with and trust
This way you will both honour and support each other's process.
Exercise
Now stand opposite each other.
Your feet are planted on the ground, hip width apart, knees loosened.
Take deep breaths together.
Wriggle your shoulders and shake your body.
Move your head around on the top of your spine.
Make faces. Laugh at each other.
It's all about loosening up and releasing any tension.
Look to the other person and you may find yourselves laughing more as your eyes meet. Or crying depending on what this singing expressing means to you…It's all fine.
Take a deeper breath and taking it in turns, sing to your partner and by singing I mean whatever sound wants to emerge, whatever can emerge from a sigh to a wolf howl to a song. And if you're ready for an aria that's wonderful too. Your partner keeps their eyes on you and in their heart they allow who you are to be welcomed. What you are singing is welcome. Most importantly you singing is welcome. They are your singing buddy and you will be that for them soon.
Nb. This is also a great exercise for people who will be singing duets or harmonies together. Something really deepens in a recording or a performance if you have received each other's singing in this way and allowed yourself to be seen, vulnerable and present. I love to sing with someone this way.