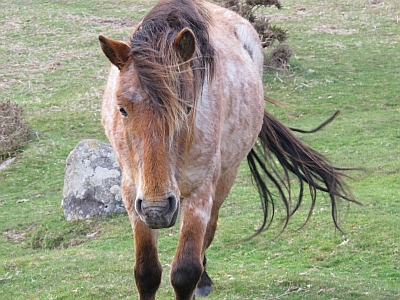 I just facilitated the first Singing Wild workshop and it affirmed the magical connection between people and animals.
We were working with an internal process, sounding the relationship between the heart and the belly with the wisdom of animal guides to support that. I witnessed someone becoming the singing, bridging her vision from soft inside out. The air opened to her, filled with the resonance of her voice, her rattle raised, her body became the dancing of her song to horse. It was powerful.
Behind her the wild ponies moved across the land below the garden wall. Throughout the rest of the day their calls and neighs and gentle blowing accompanied us. This gift of my friend singing. Later in the yurt she drummed with her hands and it was like hearing a horse moving with us, a whole journey of horse.
That night the herd softly surrounded my car on the track. I got out. Gently, curiously 2 foals nuzzling each other shaping a heart, watching me, a white mare munching, resting her eyes in mine. A bay came in behind and then the young stallions trotting in. What's up?
As I moved through sweet smelling ferns I felt in some kind of wave of horse, an energy field, clear,  my body me yet them, aware of, sensitive and strong. Awake and continuing activity in a night that would move into day. I could feel their aliveness in now. Their gift.
Here's photos of ponies near the house.